Show you a variety of interesting courses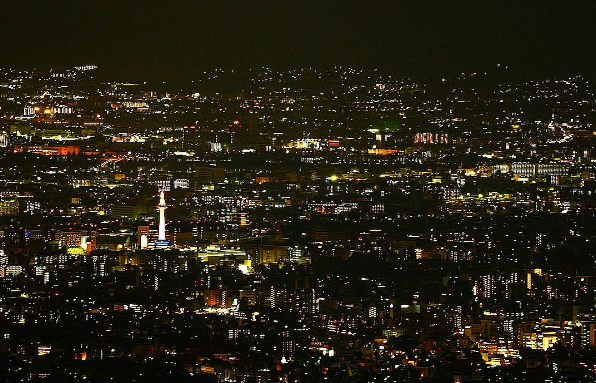 Whole Kyoto city view in night tour
Where tourists can not access by trains or bus, there is a local view point
What we will do
Let's watch the night view of Kyoto, we will guide tourists to the place where tourists can not go by themselves.We can see the landscape from a mountain in Kyoto.
The course I will guide is part of the trail course of the mountains where local people use.
It is completely unknown to tourists here, and maps in English version are not sold.
What I will show is a scene of the place where such a local is familiar.
In Kyoto there is an observation platform that you can see the night view of the city, but this place is on the top of the mountain without transportation., so it is a spot that visitors can not drop by.
Where we'll meet
You can come by Keihan railway from Gionshijo station where it is downtown in Kyoto. It is only one stop from Gionshijo station to Kiyomizugojo station. Once arriving to Kiyomizugojo station, please take "exit4" to the street. You'll see a bread store "Subway", a convenience store called "Lawson 100" and the other convenience store saying "Family mart".
Let's meet up in front of "Family mart".
Let me show several signs so that you can easily find me.
●The colors of my shoes is grey and yellow (shoe sole)
●My hair is black
●I wear a straw hat
Waiting for you at the time you booked. Please be on time. If you have a question, feel free to call me.
My mobile phone number:+81 90 3994 4956
Where we'll be
We meet you at KiyomizuGojo station on Keihan railway, very close to downton, Gionshijo station.
You can come from Kyoto station by subway as well.
We are going to catch a beautiful night view from a mountain observatory. There is no access by transportation.
It means tourists can not easily access. Experience what locals do:)
What we will provide for guests
Pick up service
What guests should bring
Mosquito repellent spray in summer.
Your umbrella ( only when it is rainy)
Notes
Basically it is a place where locals come to see the peaceful night view, so please do not make noise with loud voice.
Guest requirements
Minimum age is 7.
Maximum group size
6
Price per guest
At what time will we typically host your experience
8:30PM 〜 9:30PM
※Possible to adjust to your most convenient time.
When do we need to know your booking request
3 hours before start time
Payment
Cash only
---
Home | Our Vision | Our service | Model tours | Voices of guests | Our Guides | Photo gallery | Fees | Reservation | Lodging in Kyoto | FAQ